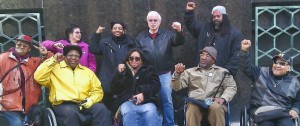 Demand that Fannie Mae stop the eviction of S. Baxter Jones
Support Baxter in court!
Thursday, May 2, 9:00 AM
231 W. Lafayette
Room 1042 – Judge Walter Shapero
Baxter Jones returns to bankruptcy court on Thursday, where Fannie Mae will again attempt to lift the stay on his eviction.  Fannie Mae's attempt in in early April was rejected by Judge Shapero after more than a dozen persons appeared alongside Baxter to show their opposition to Fannie Mae's heartless and inhumane efforts to throw him to the curb.
People with disabilities who need wheelchair access to the court house security officer at 313-234-5641.  He will direct you to an entrance on Fort Street to use and provide further assistance.  It sounds the Federal court building is not really accessible!
Parking and Public Transportation
The Detroit People Mover's Michigan Ave. and Fort/Cass stations are a block away from the courthouse. Parking meters are available on the far side of Fort Street, but street parking is prohibited next to the courthouse on all sides. Numerous parking lots and structures in the area offer public parking for $8 to $10 per day.

Wells Fargo, the servicer of the loan owned by Fannie Mae, refused to follow federal loan modification guidelines for homeowners in financial distress.  Wells Fargo also failed to comply with rules that are designed to keep persons with disabilities in their homes.  These programs were established after Wall Street crashed the economy and the federal government stepped in to bailout Fannie Mae, Freddie Mac, and the Wall Street banks. Wells Fargo received $36.9 billion in bailout funds plus an unknown (secret) amount amount from the the Federal Reserve's $8 trillion-plus emergency programs. ( seiu.org/a/profilewells.php)  Fannie Mae and Freddie Mac also received $188 billion from the taxpayers.  Furthermore, the Federal Reserve has purchased more than $1 trillion in mortgage-backed securities from Fannie Mae and Freddie Mac! Yet families continue to be evicted.
Please sign the petition to stop the eviction of S. Baxter Jones.
Call Fannie Mae and tell it to stop the eviction of Baxter Jones and work with him to modify his loan with a principal reduction to current market value and a low interest rate so he can stay in his home.
Refer to: LOAN # 025 301 6042;    ADDRESS: 8789 Rexford Road, Jackson, MI 49201
Fannie Mae Chicago Office: 312-368-6200
Fannie Mae Mortgage Help Center: 866-442-8572
Watch the video of S. Baxter Jones