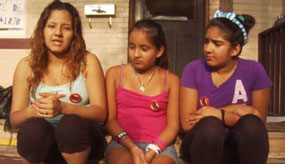 Neighborhood March Against Eviction of the Hernandez Family
Friday, Nov. 8, 5:30pm
Gather 1136 Morrell St., Detroit
Marking the fifth week of our anti-eviction vigil at the Hernandez family home in Southwest Detroit, neighbors and supporters from Detroit Eviction Defense will march through the neighborhood on Friday, November 8, starting at 5:30 pm from the Hernandez home at 1136 Morrell Street (2+ blocks south of Vernor, 1 block east of Junction). We'll march to and along Vernor Highway to leaflet cars, businesses, neighbors and pedestrians, urging them to join the vigil and support the Hernandez family. Bring flashlights and noisemakers!

Fannie Mae, the failed mortgage company taken over by the federal government in 2008, knows there is mounting community opposition to yet another unjust eviction and empty house waiting to be stripped. Our presence at the vigil in front of the Hernandez home from dawn to dusk every day demonstrates that resistance. No more dumpsters in front of our homes!
Just as important:
Let Fannie know! Call (312)368-6200 or (866)442-8572. Fannie sells houses to investors at below market, so it can sell the Hernandez home to a non-profit organization that will keep the Hernandez family in their home. Email:  chicago_mhc@fanniemae.com. Reference loan #1702179550 for the Hernandez home at 1136 Morrell St., Detroit, MI
Join us on Friday at 5:30 pm to demonstrate our opposition to the mortgage fraud and profiteering that destroys neighborhoods, decimates our tax base, and pushes Detroit further into bankruptcy.
All are welcome at the weekly meetings of Detroit Eviction Defense, Thursdays, 6:00 pm, Old St. John's Church, 2120 Russell, Detroit, near Eastern Market.