Protest Criminal Separation of Families
Saturday, June 23, 12 PM – 1:30 PM
ICE Enforcement & Removal Operations – Detroit Field Office
333 Mt Elliott St, Detroit, MI 48207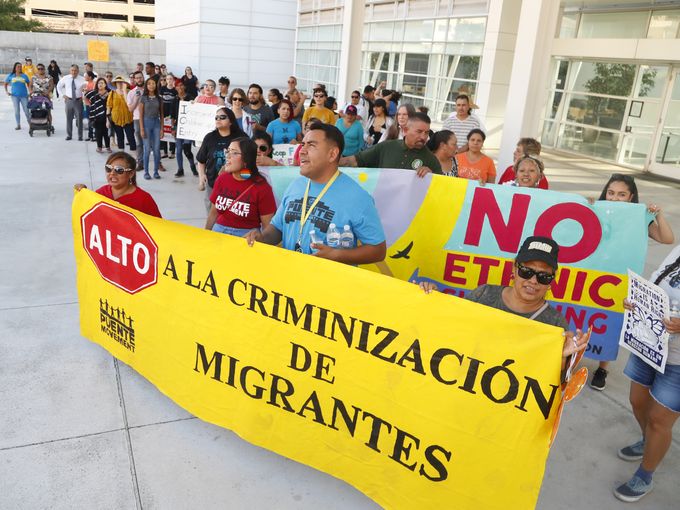 Join us in condemning the horrors of family separation immigration policies, detailed in many recent news reports. Families arriving in the US are being torn apart by US Border Patrol. The US is traumatizing children by ripping them away from their families to be held in concentration camps and tent cities and then trafficked through adoption agencies or worse.
This is only the latest example of the US's brutal practice of tearing apart and separating families. These practices were honed by the US government during their campaign to exterminate Indigenous people on this continent and during the enslavement of millions of Africans. We must build stronger political consciousness in our communities about the long history of these practices.
For more information, call 313-680-5508
Statement from Montanans for Immigrant Justice and Missoula Rises re: Trump's Pending Executive Order to Stop Separating Families:
Trump has indicated that he will be signing an Executive Order today to stop separating families when they initially cross the border. While this is movement in the right direction, DO NOT BE FOOLED by what this Order does. Here are the facts thus far:

Families will not be immediately separated, but they will be held in detention together.
Crossing the border "illegally" will no longer be deemed a civil violation, it will be deemed a criminal violation.
Because it is a criminal violation the parents will be charged criminally. At that point, their children will be forcibly taken.
The Executive Order will provide a provision that families will be expedited through the criminal process. This means that the removal of their children will be expedited.

There is still a need for the Tent Cities. There will still be Tender Age Facilities. This serves as optics for Trump to claim he is not ripping families apart. He is. The GOP are. They are just hiding in the fine print.

Understand this is a result of the pressure we and others have exerted. WE made this change. But this is not the solution. He anticipates this will temper our moral outrage. Do not let it. This is not close to enough. This is not a victory for those families crossing the border.

No Justice, No Peace.